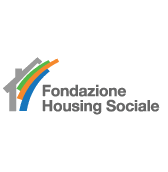 Over €44 million to meet the housing needs of vulnerable people
Origins & Mission of the Fondazione Housing Sociale
The economic crisis is leading people to find new ways to improve their condition, seeking collaborative and sustainable solutions that can guarantee a satisfactory quality of life: a new "culture of living" both private and public spaces is emerging. Offering a house today means producing efficient buildings but also making platforms available that allow people to activate the resources needed to build a neighbourhood and a community. Throughout Europe there is a shift from the supply of houses to the supply of housing services.
Fondazione Housing Sociale ("FHS") was born in 2004 in Milan to develop the social housing program already run by Fondazione Cariplo. FHS is a private, non profit entity with the mission to experiment innovative solutions for structuring, financing, constructing and managing social housing initiatives that are economically sustainable and not dependent on grants.
Roadmap | step 1, experimentation at local level | The first real estate ethical fund in Italy
One of the first tasks of FHS was to generate an effective and sustainable business model for social housing initiatives. It did this by creating the first real estate ethical fund in Italy (Fondo Federale Immobiliare di Lombardia - FIL, former "Fondo Abitare Sociale 1"). With nothing more tangible than a theoretical model and some market analysis to show potential investors, this was not easy and took months of dialogue, presentations and relationship efforts. Investors were offered a return of 3% above inflation on a long term, 20 years investment. At the time, this was seen as a very low interest rate (but is now seen as relatively attractive) and investors needed to see it as an experiment with a social benefit part. Nine high-profile public and private organisations were successfully persuaded to invest and the first fund closed at €85 million. The experimental "practice" developed by the FIL was based on FHS idea to draw up a protocol of agreement setting up a working party together with the municipal authority and the other sponsors of the initiative, assigning to this combined working party the role of developer of the social housing project.
Roadmap | step 2, scaling at national level | The Integrated Funds System
The successful experience of FIL was used as a basis to set up the Integrated Funds System ("SIF") introduced by the National Housing Plan that formally started private social housing: an innovative way of developing projects and programs aimed at expanding the supply of social housing units using resources and means of implementation proper to the private real estate market. The Integrated Funds System raised a total of €3 billion and currently consists of a national fund of funds, the Fondo Investimenti per l'Abitare ("FIA"), managed by CDP Investimenti Sgr with an AUM of €2 billion, which invests in local real estate funds, providing up to 80% of equity with the balance funded by local investors.
Facts & Figures
As of December 2016, there are 31 approved local funds spread throughout Italy with 9 different fund managers. This means that more than 270 projects may be potentially implemented, creating over 20.000 "social homes" and 8.500 beds in temporary and students' accomodation, besides local and neighbourhood services.
The social housing program developed by FHS aims at offering affordable housing units to people unable to meet their housing needs on the marketplace. The program targets people with a hisher income than those entitled to public housing, but nevertheless at risk of poverty and social exclusion. It contributes to reduction of inequalities at least in two ways: firstly, by providing access to the housing ladder and secondly, beacuse this model seeks to respond to a new, changing and more manifold housing demand (e.g. mobility of young adults and workplace, immigration, new extended or small families, etc) in addition to the more traditional familiy related one.
Guiding Principles & Approach
Every project is planned as an urban project involving redefinition of public spaces, traffic issues and a functional mix of new dwellings; a social project providing commercial services with community impact, high impact social services and sometimes special residential services; and a financial project involving planning and project management. Ideally, all of these elements have to be planned and agreed between local stakeholders and investors at the outset and built into the implementation agreement prior to closing the agreement, and agreement on tender for final building design and development, property allocation and property and community management arrangements.Once the project has been built, FHS turns its attention on the social dimension of placemaking, developing strategies and instruments to accelerate the natural process of community evolution, undertaking a journey with tenants to quickly establish a high level of trust. A flourishing and thriving community is the essential basis that ensures a long-lasting, safe environment.
FHS summarises the diversified skill sets underlying its integrated approach under two main headings - finance, and planning and development – and eight key elements:
Economic and financial planning
Social administration of the properties
Definition of a reference profile for the new community that ensures a balanced social mix, coordinated with the city's housing policies and applicable regional legislation
Services design: inclusion of local and urban services that strengthen relations with the wider neighbourhood and collaborative resident services that may promote a sense of community and well-being
Architectural design with a focus on definition of spaces for socialising and interacting both in and outside of buildings
Attention for the environment and sustainable life- styles
Community start up and guidance
Co-ordination with relevant local policies
All of the work of FHS is based on a strong philosophy that social housing is not simply about the provision of a place to live but is rather about a way of living, in which multiple services are available and shared and a community is built.
FHS sees its role as ensuring everything is done properly, sharing knowledge and spreading competence in order to "create a market not just a collection of projects".
Related content