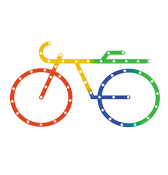 The Mobility Management Project for Milan's Universities was designed to promote sustainable commuting to and from Milan's universities among the some 200,000 people who work or study there: students, professors, researchers, administrative and technical staff. Impacting on the transportation means used by these people is crucial both in terms of immediate effects on the local mobility system and in terms of educational value.
The project was developed by teaming up with the mobility managers from Milan State University, Milan Bicocca University, Milan Polytechnic, Milan Cattolica University, Milan Bocconi University, Milan's provincial and municipal administrations, under the scientific coordination of Milan Polytechnic Poliedra consortium.
This project delivered inter alia:
1. information about the convenience of reaching Milan universities by public transportation means;
2. insight into the commuting behaviors of students through the administration of questionnaires to them for two consecutive years, with over 20,000 responses gathered in each year;
3. proposals for improved pedestrian and bicycle access to the university grounds that were submitted to the Milan Municipal Administration
4. introduction of bike repair services run by +bc available on the grounds of Milan's universities

For further information go to www.mobilitastudenti.it.