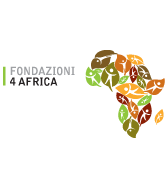 A unique foundations' partnership to foster development in Africa

Foundations4Africa is a project jointly funded by four Italian foundations of banking origin, Compagnia di San Paolo, Fondazione Cariparma, Fondazione Cariplo and Fondazione Monte dei Paschi di Siena, that joined their forces for the first time in such an endeavor. Foundations4Africa includes two actions, one in North Uganda and one in Senegal. For the first 3 years of the project €11.1 million funds were budgeted. The two actions are implemented locally by Italian organizations that have a long-standing experience in the field of international cooperation and humanitarian relief. In Senegal, the Italian organizations work together with associations of Senegalese migrants formed in Italy
The action in Northern Uganda is geared to facilitate the return of internally displaced people from IDP camps to their home villages or other resettlement areas in order to promote sustainable local development and peace in the districts of Gulu, Amuru, Kitgum and Pader.
The action in Senegal is designed to improve the economic and social conditions of the peoples living in rural areas or outer urban belts. The action's special feature is the involvement of associations of Senegalese migrants residing in Italy since the early development stages of the project and across all its areas.
In line with their approach to philanthropy, the Foundations have catalyzed the commitment of numerous organizations and institutions that in addition to financial resources have contributed their project development skills and experience accrued over the years. This project testifies to the new season of Italian foundations of banking origin that nowadays reach beyond sheer grant-making committing themselves to carrying out directly their own leading projects.
In November 2008, the Foundations and all their partners in the project signed the Conventions (one for each action) regulating their relationship. The action in Northern Uganda was officially launched on October 1, 2008 and the action in Senegal on November 1, 2008. To monitor and assess the unfolding of the initiatives two independent organizations were selected, namely, Milan's Punto.sud for the action in Northern Uganda and Scuola Superiore Sant'Anna for the action in Senegal.
Related content