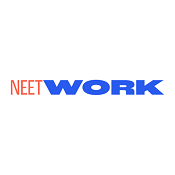 BackGround
Reflecting young people's growing difficulties in fulfilling their potential and ensuing distress, the signs of a youth emergency in our country are more and more apparent. Hence, the need for a youth strategy featuring support mechanisms is pressing, especially for those youngsters who - for reasons that would largely require further and deeper analysis - got lost. We are referring to NEETs - young people "Not in Education, Employment or Training" – who, for varied reasons, left education prematurely and are excluded from the labor market.
According to the EU classification, NEETs include 15 to 24 year olds, but in the light of the greater difficulties young people encounter in our country, in Italy the age limit has been extended to 29 years of age. Of the over 2.4 million NEETs in Italy, 260,000 reside in Lombardy and account for 18.4% of the total population in that age group. A conspicuous figure which is worrying, especially considering its staggering growth, up 162% from 7% in 2007 to 18.4% in 2013.A varied mix of youngsters from different backgrounds and with varying needs according to their age, NEETs include both young people looking for a job (active NEETs) and unemployed youth who are not seeking a job (inactive NEETs). In Lombardy, there are 140,000 active NEETs and 120,000 inactive NEETs. The latter are more disadvantaged, especially those in the 18-24 age bracket, as they largely have a low education level (40% of NEETs in the 15-29 age bracket have middle-school or lower education, a percentage rising to 42% in the 15-24 age group), poor skills, lack support from family and society, are disheartened about their future prospects and disenfranchised.
As it is known, the European Union has set out a common framework to combat youth unemployment and the NEET problem. Italy endorsed the EU Youth Guarantee (YG) and its implementation in Lombardy is funded with €178,356,313. However, as of May 9, 2016, only 30% of potential beneficiaries had registered on the YG portal and chosen an accredited provider. It appears that this program is also failing to reach out to young people with low education: participants with middle-school or lower education account for just 16% out of 40% of youth in this condition.
The Youth Guarantee is falling short not just in terms of engagement of eligible youngsters, and especially the most vulnerable ones, but also for the low participation rate of businesses and the lack or even absence of participating nonprofit organizations. And yet, the Lombard Third Sector as a whole has proven its good competences and adequacy of human resources even in these years of market downturn.
Based on data from the latest Census of nonprofit organizations (NPOs) conducted by ISTAT, Italy's Statistical Service (data as of December 31, 2011) in Lombardy there are 46,141 active NPOs accounting for about 15% of total NPOs in Italy (amounting to 301,191), 10,894 of them with at least one person on their payroll. In terms of total human resources their incidence is significantly higher, as volunteers working for them account for 17.1% (813,896 people vs. a total of 4,758,622 volunteers nationwide) and paid personnel for 23% (221,188 people vs. a total of 957,124 people nationwide). The analysis of the Third Sector in Lombardy by type of contract of its human resources shows a prevalence of personnel on a permanent contract (around 75% of paid personnel), a significant number of consultants/contractors (around 24%) and a low percentage of people on temporary contracts (less than 1% of the total).
Against the picture briefly outlined above, it was deemed of crucial importance to join forces and offer the most vulnerable youth an opportunity which would rekindle their motivation in life and with respect to employment, by helping them gain adequate competences, including personal and relational skills.
Goals and strategy
The overarching goal of the NEETwork Project is to engage or re-engage youngsters who for varied reasons left education prematurely, are excluded from the labor market and for a number of social/cultural causes are unable to take action or are not effectively reached by current policies, motivate them and help them return to education/training and transition into employment.
The specific goals of the intervention are:
increasing understanding of the NEET phenomenon;
testing new ways to engage young people;
increasing NEETs labor market engagement rates.
The project is designed for NEETs in the 18-24 age group, with level of education not higher than lower secondary (middle school) who have been unemployed for 6 months. The intervention entails offering some 1,000 of these young people a 4-6 month paid traineeship at a nonprofit organization.
The NEETwork Project leverages the overall mechanism and resources available under the Youth Guarantee in the Italian region of Lombardy, seeking to mitigate and overcome the weaknesses of the YG regarding youth engagement, by reaching out to the young people targeted by that program and providing more robust support to them and to the organizations offering the traineeships.
In brief, the intervention is organized into the following steps:
launch of a joint-up action to reach out to those young people not yet enrolled in the Youth Guarantee who meet the eligibility criteria for participation in the project. These youngsters are found among those who have submitted their CV with an employment service center or an Adecco recruitment office and among those responding to a targeted campaign on Facebook (FB);
phone calls are made to contact these young people and invite them to an accredited recruitment office for their registration with the Youth Guarantee.. To the Youth Guarantee package, and the opportunity to gain work skills, the project adds psychological support for youngsters through two meetings with an occupational psychologist - at the beginning and half way through the traineeship - to identify and work on any personal and/or family issues that may require special attention;
offer of a 4-6 month paid traineeship at a nonprofit organization participating in the project. The offer is made after matching the young candidate with an NPO based on what emerged during the interview. NPOs providing the traineeship get organizational and financial support, namely:
a financial incentive of €100 for each month of traineeship delivered, adding to the financial resources provided under the Youth Guarantee (€400 for 4-month traineeships or €1,200 for 6-month traineeships) and covering part of the monthly allowance paid to the youngster (€400 per month)
occupational safety and third-party liability insurance coverage, aid with issuance of pay slips;
assistance with paperwork/fulfillment of administrative requirements in connection with the traineeship (e.g. registration with the Lombardy Region Youth Guarantee Portal, online mandatory filings..).
Progress to Date
The project is ongoing. It started in July 2015 with the launch of a campaign to gather traineeship offers and youth applications.
Specifically, the following activities were carried out:
1. Engagement of nonprofit organizations and collection of information about traineeship positions
2. Identification of youngsters and their engagement
3. Cross-cutting preliminary activities
Engagement of nonprofit organizations and collection of information about traineeship positions
The campaign aimed at engaging nonprofit organizations (NPOs) that would provide traineeships for eligible youngsters in Lombardy was a fundamental preliminary activity as the alliance with the Third Sector and its provision of traineeships were the key pillars for building the whole intervention and of its viability. To that end, when assessing the feasibility of the project, research was conducted to estimate the 'accommodation capacity' i.e. potential traineeships at nonprofit organizations in Lombardy. That exercise found there were 1,450 NPOs, in particular social cooperatives, that could potentially be engaged in the region-wide project and identified a first group of NPOs willing to offer at least one traineeship position. The actual campaign started in July 2015 and consisted of mailings and communications on Facebook and Twitter. Articles in the local and national, general and specialist press, radio and television interviews after the October press conference gave further visibility to the project, as did the launch of the project website (www.neetwork.eu) and a series of ad hoc meetings with NPOs and their associations.
All these activities led to over 730 traineeships been offered with some 600 being confirmed to-date by some 300 NPOs in Lombardy that formally signed up to the project.
The traineeships offered by NPOs are across Lombardy - mainly in Milan and Bergamo - and for a variety of positions (in offices, production and services), reflecting the diversity of nonprofit organizations involved (mostly social cooperatives and consortia, but including also foundations, various associations and religious organizations). The NPOs were contacted by local recruitment services to get details (job description) about the traineeship positions offered and their start date for best matching and planning of the intervention.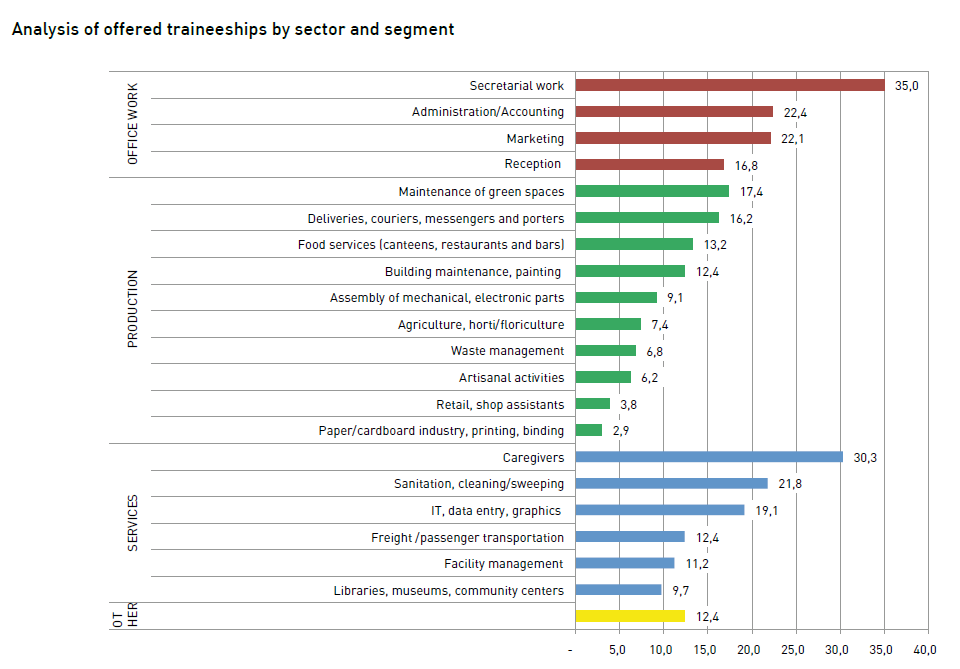 Identification of youngsters and their engagement
Youngsters' applications were gathered through varied sources:
Databases of project partners (Adecco srl)
Databases of employment services of the Metropolitan City of Milan, of Bergamo, Cremona, Mantua, Pavia, and Sondrio
Facebook campaigns and project website
After the checks made by Lombardy Regional Administration staff, out of the 25,963 youngsters (after excluding duplications) who submitted an application through the sources above, 12,008 young people were found to meet the project eligibility criteria of being unemployed for at least 6 months and not registered with the Youth Guarantee. A first group of 3,946 youngsters were contacted by a research firm to check whether they were interested in participating in the project and to make sure they met the other eligibility requirements (level of education not higher than middle school, not in education/training, not having found a job in the period between the initial eligibility check and the time they were contacted), to get their consent to use of personal data under Italian privacy legislation and administer them a questionnaire for assessment of their soft skills (personality, social skills, attitude in their search for a job, motivational aspects) that would be used for the qualitative evaluation of the project.
To-date, 647 youngsters have stated their willingness to take part in the project and recruitment office staff are contacting them and matching them with the traineeship positions offered by Third Sector players.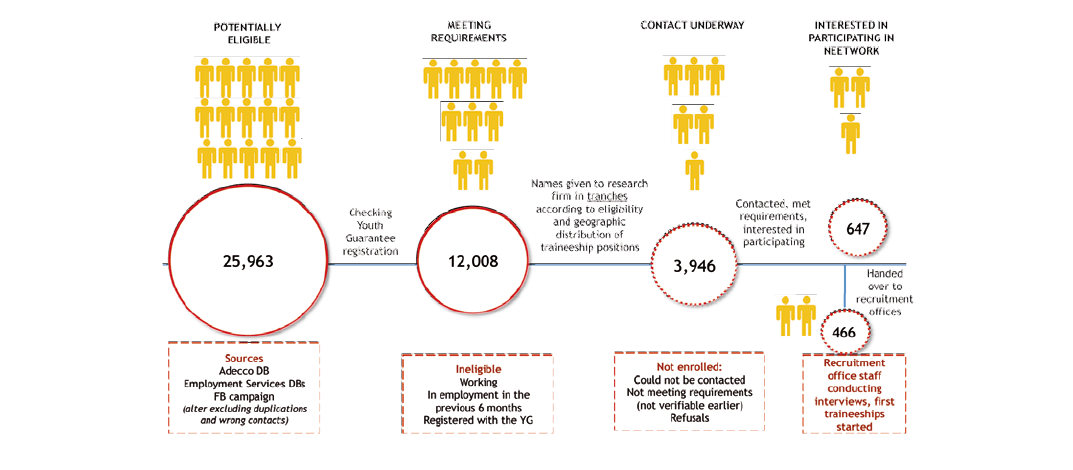 YOUTH ONLINE ENGAGEMENT STRATEGY: THE FACEBOOK CAMPAIGNS
Of particular interest have been the Facebook campaigns that were launched pursuing the goal of "testing new ways to engage youngsters."
Specifically, the online engagement strategy/campaigns entailed: i) the publication of a form on the project website www.neetwork.eu to gather spontaneous applications; ii) the launch of two paid Facebook campaigns, the first targeted to youngsters having characteristics similar to those of the NEETs in the databases sourced for the project (similar population) and the second targeted to moms (women over 35) resident in Lombardy with children in the 18-24 age bracket1.
These FB campaigns were held from December 22 to January 27 (the form remained online on the project website until February 9) and in little more than a month led to the submission of 545 applications (average of 11 per day with peaks up to 43 applications/day) of which 301 directly from the FB campaign targeted to the youngster profile, 94 through sharing posts on FB, 151 through the project website.
The table below sets out the reach, conversions and costs of the two FB campaigns.

Valuable insight was gained from this first FB campaign test regarding social media as a channel for engaging young people to take part in a social project. Specifically:
• youngsters responding to the campaign were different from those who submitted their CV with employment services and Adecco offices.
After the initial eligibility checks by Lombardy Regional Administration staff, the FB database emerged as the one with the fewest overlaps with other databases;
• after the eligibility checks by Lombardy Regional Administration staff, it emerged that the FB database (together with the database of the Milan employment service) contained a higher proportion of younger NEETs (18-21 age bracket);
• good response rates for both FB campaigns (youngsters and moms over 35) with the campaign targeted to moms over 35 having a higher response rate;
• low cost (€2.74 per conversion, €2 per conversion including those who registered as a result of the campaign going 'viral'); possibility to launch/end ad hoc campaigns (targeted to a certain geographic area, gender, age group…) according to project needs;
• feedback from young people excluded for not meeting eligibility criteria shows frustration on the part of these youngsters especially of those registered with the Youth Guarantee.
Cross-cutting preliminary activities
A number of preliminary activities were carried out prior to starting the traineeship programs, e.g.:
• establishment of a Board to coordinate efforts, oversee delivery of project actions, analyze and discuss evidence from project monitoring and evaluation. The Board meets on a monthly basis and is made up of representatives from Fondazione Cariplo, project partners, recruitment services and Noviter Srl for technical support;
• establishment of a common platform for collection of youth information from the various players involved in the project (recruitment offices, psychologists, Fondazione Cariplo officers);
• identification of 58 recruitment offices/employment centers (41 of Adecco and 17 of Mestieri) and 20 psychologists working for the project across Lombardy;
• two training programs, one for recruiters and the other for the psychologists involved in the project, coordinated by Milan Toniolo Institute.
Partners
The project partners are:
Fondazione Cariplo. A philanthropic organization providing assistance and financial support to help nonprofit organizations implement public benefit projects. Fondazione Cariplo conceived and promoted the project, and is its main funder with €1.6 million allocated to it.
Adecco Foundation for Equal Opportunities. A corporate foundation whose main purpose is education and training of disadvantaged people. The Foundation has contributed to the definition of the intervention and, through its staff, to the process of engagement of young people, checking their eligibility for the project and interest in participating in it. It matches youngsters with NPOs for the delivery of services under the Youth Guarantee through the Adecco corporate organization and its network of offices in Lombardy.
CGM-Mestieri Lombardia. Nonprofit employment service, authorized by Italy's Ministry of Labor and Social Policies, accredited with the Regional Administration of Lombardy through the operational units of the organizations that are part of the CGM network and its 15 offices accredited under the Youth Guarantee. Within the project, in addition to matching young candidates with NPOs (same as Adecco Spa), it assists Third Sector organizations in their delivery of traineeships.
Toniolo Institute (Youth Division). A founder of Milan Catholic University, its purposes are education, promotion and development of research, with special focus on young people, including through the Youth Report it promotes. The Institute participates in the project to increase and disseminate knowledge about NEETs, and especially its causes which the institute investigates.
NEETwork is supported by the Lombardy Regional Administration with which an ad hoc agreement was signed for the delivery of actions under the Youth Guarantee regional implementation plan and allocation of €1.6 million to the project.
Evaluation
The wealth of information gained about the target population (youth aged between 18 and 24, with low education and not in employment), the large number of young people involved in the project, and the impact of traineeships on them, if drilled down further and deeper, we believe may offer new, valuable insights that can help understand how to best fight the problem. Quantitative and qualitative analyses of project data will be undertaken to measure outcomes not only regarding employment but also personal development of the young people participating in the project.
The rate of labor market engagement will be measured counterfactually, using records from mandatory filings of new hire/employment change reports to track labor market participation of youth involved in the project. The personality, social skills, attitudes and any vulnerabilities of each youngster will be examined during the two meetings with a psychologist. The soft skills acquired as a result of the traineeship program will be measured through a questionnaire administered to each youngster at the beginning and at the end of the traineeship and at follow-up.

1 The decision to have a campaign targeted to moms and grandmas was made after Fondazione Cariplo staff received many phone calls from mothers and
grandmothers following the press conference held in October of last year and the communication campaign in the press and on local media about the NEETwork
Project.